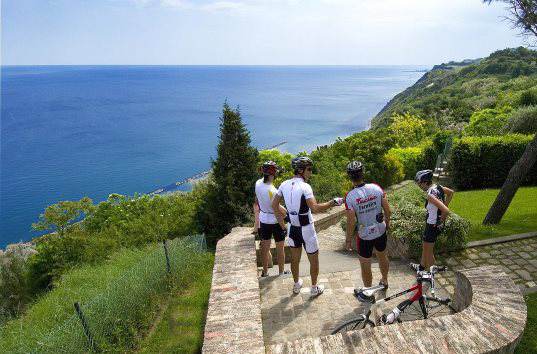 Bike holiday offers for a good start into summer June 10th – 17th
7 days from € 555,00
with half board + athlete's buffet after the bike tour
---
price per person in standard-doubleroom
---
or call us at the number 0039 0541 600978 for the best offer
Challenge a guide from the Sarti Bike Hotel team…. We are waiting for you in Riccione!
Would you love to accept a great challenge in the saddle of your bike? We are waiting for you from June 10th – 17th in Riccione at the Hotel Sarti for an exciting Challenge with our strongest guide Renzo. Renzo will make you sweat on long and demanding tours such as the "Giro delle Tre Regioni" – the 3 Region's tour, the "Mini 9 Colli" and the hard Mount Catria climb.
If you like the idea, start right now booking your bike holiday in the Romagna for the month of June. Here at the Sarti Bike Hotel, you will enjoy all the Bike-Services you want for your perfect bike holdiay. After the tour you can chill out at the pool or relax at our lovely in-house wellness center.
Accept the challenge, your next bike holiday is in Riccione, at the Hotel Sarti!
---
Many Services specially for you:
Half board with buffet after the ride
fully equipped Bike-Garage, secured and with video surveillance, for up to 170 bikes
Workshop-services
Laundryservice for sport clothes
heated outdoor swimming pool (from the middle of March to the middle of October)
free Wi-fi in the entire Hotel
Sarti Wellness-area of 200 sq.m
free transfer from and to the train stations of Rimini and Riccione or Rimini airport (Bologna and Ancona airport transfer on request, fee required)
Sarti Bus bus escorting the bike ride on long and demanding tours, tow back service
As a gift the Hotel Sarti bike jersey for all the brave who accept and finish the challenge successfully
Are you coming on holiday with your partner but cycling is not your passion? We have thought about something special for you:
1 beach umbrella and 1 sunbed at the beach for one person (the one who does not tour on bike)
a free excursion to a nice town in the surroundings
Accept Renzo's Challenge…
1st day: warming up along the San Bartolo nature park
2nd day: training day, 100 km route, 1.500 m gain
3rd day: 3-Regions-Tour 150 km, 2.000 m gain (take-away snacks provided, escorted by the minibus)
4th day: chill out day
5th day: Mini 9 Colli with Barbotto climb 160 km, 2.500 m gain (take-away snacks provided, escorted by the minibus)
6th day: Mount Catria Mountain tour, 220 km, 3.000 m gain (take-away snacks provided, escorted by the minibus)
7th day: departure
Every participant in the Renzo-Challenge who successfully completes all tours will receive a Hotel-Sarti bike jersey as a gift.
---
Discover a preview of the Hotel Sarti:
"Excellent food and the organization as a bike hotel"
Excellent food for the quality and variety of food and the organization as a bike hotel. Outstanding guide who accompanied us on bike rides.
The common areas are very clean and cared for, the staff is friendly.
da 586patty – Reviewed in June 2016