OCEAN
Hydro massage pool – Jacuzzi for 12 people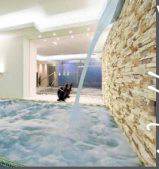 Hydro massage is a type of massage based on the therapeutic use of warm water.
The essence of hydro massage is applying massage techniques to the human body through the water.
It helps to relax muscles, increase blood circulation, and relieve muscular pain and tension.
Hydro massage as a proven natural remedy has been known and used for years (since the ancient Romans). Hydro massage creates awareness of the body, reduces anxiety levels, gives a sense of well-being, improves the ability to monitor stress signals, gives a feeling of peace of mind, helps treat athletic or job related injuries, tension related headaches and post-operative rehabilitation.
Fly Ryanair!
On March 27th 2018 Ryanair is launching a new airline route: a direct flight London-Rimini.
Seize the moment and plan your one-week holiday at Hotel Sarti! We'll be waiting for you at the airport and we offer you our free transfer service to and from the Hotel.