Riccione holiday
Wha t would you like more than have your holiday in Hotel Sarti?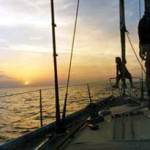 Hotel Sarti is really for everyone, adults and children. Open all year, New Year's Eve and Valentine's day as well, and for who, during the winter, would take some breaks and just relax or enjoy the weekends.
Lots activity for everybody …
Lots acticitys for your holiday, as an amazing boat tour to see our beautiful coast .
A moment for you, without stress and city traffic.
Close to our Hotel, you can find an amusing "Indiana Golf" theme park for who lovels the golfs sport or possibility to rent tandem and motors.
Hostory and Natural
For who love the nature, can visit our wonderful hinterland, with history, origin and transfomation:San Leo, Gradara, San Marino, Urbino, beautiful small village that you have to visit!
In our hotel, you will find lots depliants and information books about our hinterland.
Relax and Entertainment
Hotel Sarti is located in front of the thermal-Spa of Riccione and have 200 mq of Wellness Centre to relax after a long day or to have just one day without stress.
Every year in the summer season, Riccione organise alway events and festivals for tourists: for example the famous "Notte Rosa" (Pink night):a magic and unique night where all the coast is colored in pink, from the beach to the Romagna hills.
Let's have a look to Riccione website for your events!
Bar with amazing aperitif , pub for drink with your friends, disco-pub directly on the beach and disco open for all the night in our "hills of Riccione".
And for our children?
Our Hotel thinking about everybody . Miniclub every day 7 to 7 days, restaurant for children with flexible hours and possibility to play with our specialized personal.
Every evening, there ia s theme-night , enjoy with us  in the Luna Park-Theme park or skating, close to the Hotel.
During the day, you can visit the legendary Ulisse dolphin, "delfino curioso" in Oltremare theme-park or enjoy in aquatic theme-park "Aquafan".
Hotel Sarti thinking about you!