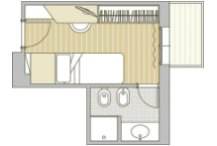 Let's watch your budget! It's perfect for travellers or those who stay in Riccione for work and business, 10 square meters with maximum functionality, of course with sea views.

Our single rooms have:

• balcony with sea view;
• direct dial telephone;
• Tv Sat;
• minibar;
• direct and controlled air conditioning
• shower;
• safe.
Our Rooms:
– Executive Suite
– Comfort Room
– Superior Room
– Standard Room
– Single Room