Hotel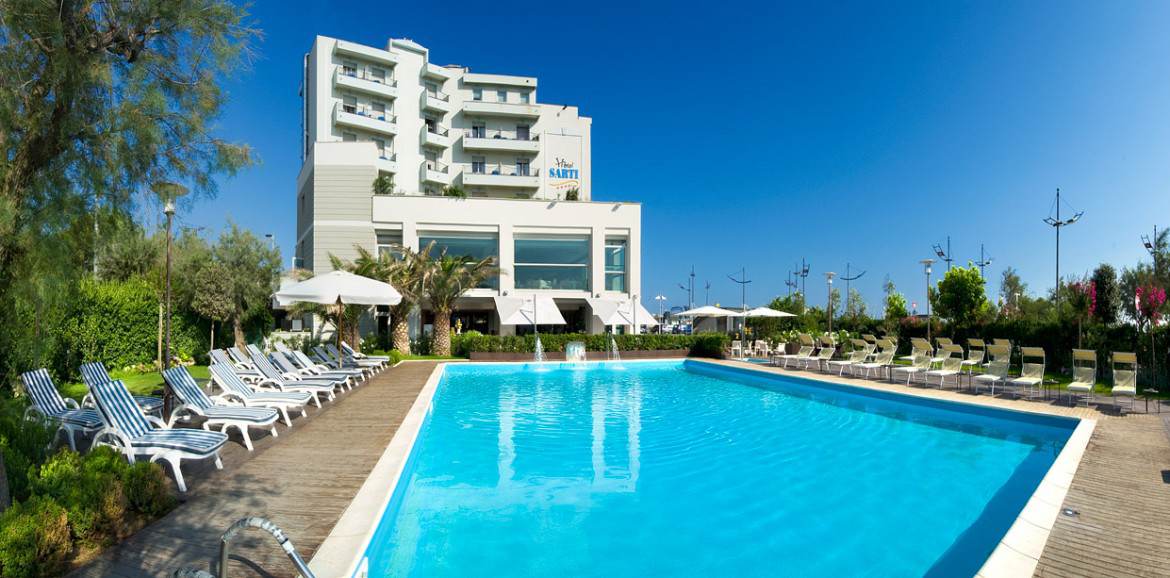 … Imagine you can stay directly on the sea of Riccione, in front of the thermal Spa and not far away from the central shopping Viale Ceccarini ..

Imagine … staying in a 4 star hotel directly on the new pedestrian and cycling promenade of Riccione.
Imagine … relaxing in beautiful rooms, from which windows you can see the sea every time 
Imagine …  walking with your dog and you are finding a beautiful beaches where you can bring your animals.
Imagine … dining at the table of a nice Italian restaurant with a great view over the pool and the coast, with Menù à la cartè "espresso" with table service.
From big and rich buffet, with meat and fish, hot and cold salad and vegetables to our typical "Piadina Romagnola". Every day, you can choice between first and second dishes of fresh meat and fish. Homemade pasta following "Romagna" way and homemade gelato.
Imagine … getting a wonderful sun tan in the garden of one of the largest pools in Riccione ( 10×15 mq), always kissed by the sun thanks to its location in a huge park (1500 mq) never in shadow. It offers a lot of space and it's well appointed with sun beds , beach umbrellas and safe children's playground.
Imagine … finding for your car a safe parking place with direct access to the rooms in our private underground garage.
Imagine … you can spend your free time in a beautiful Spa, with perfume and music with massage at your disposal
Imagine … you can be connected with Wi-fi internet connection
Imagine … entertainment for children all day long for 7 days a week, with a Restaurant and a kitchen dedicated only for them; play area available well equipped inside and outside the Hotel and a Baby Spa with flexible hours for them.
Imagine … a wide range of different services for your different needs: holiday with family or alone, for spa or thermal cures, for business or for sport.
… this is not a dream, is real! This is Hotel Sarti!